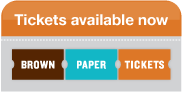 The Seattle Globalist's second-annual Globie Awards fundraiser is this Saturday, September 27, from 6 p.m. to 9:30 p.m at Washington Hall. The awards celebrate our best writers and recognize the 2014 Globalist of the Year: Era Schrepfer, executive director of the Foundation for International Understanding Through Students.
"The Globies felt like someone had gone to the trouble of inviting all my favorite people to a party that I never wanted to end. I left full. Full of amazing food. Full of fantastic conversation. Full of gratitude for the work of the awardees. And full of happiness that I live in a region that walks its global talk."
– Anita Verna Crofts, Associate Director, UW Communication Leadership graduate program & Seattle Globalist board member
This year we're honoring five Globalist contributors: Irina Vodonos, Lael Henterly, Atoosa Moinzadeh, Aida Solomon and Dacia Sáenz.
If you're ready for the party of the year with Seattle's globally-minded leaders, artists, and global storytellers, grab your tickets now because they are selling fast.
"The Globies was one of the first places I saw so many of my communities represented, in one place."
– Anna Goren, 2013 Globie Award winner and Seattle Globalist columnist
Our host is the hilarious Yogi Paliwal, Food truck Sam Choy's Poké to the Max will bring ahi tuna poké and pineapple upside down cake right to your table. (Psst: There will be an open bar featuring Mac & Jack's Amber Ale and wines from O Winery.)
We will also be raffling off some amazing prizes, including a weekend getaway to San Juan Island, staycations in South Lake Union and downtown Seattle, a private coffee tasting, cooking classes, and more! All proceeds benefit Seattle Globalist media makers and youth programs.
"I come from a country where journalists work under constant fear of threats, intimidation, violence and even death. For them, it is a profession that entails more risks than recognition. Having worked in that kind of an environment, writing for the Seattle Globalist and then receiving the Globie Award in recognition of my my work meant multitudes to me. I was honored as well as privileged to be recognized."
– Muatasim Qazi, 2013 Globie Award winner